Getting Started
Welcome
Welcome to Digital Super Systems Vault! We're excited to have you on board!

I wanted to share a this platform with as many people as possible and I believe many of you awesome people will find extremely valuable.

In this article, we will show you how easy it is to navigate the dashboard and make the most of every system.
Why Are You Giving Sooo Much For Free 🤨 ?
These Systems & SOPs are white labelled and are what my team and I use everyday to scale our Multi 8+ Figure Biz! Why are we giving 90% away for FREE??….

Because I believe there are sooooo many "Courses" by fake wannabe pretenders out there who focus on selling 😒 "ideas" on "how to make money" … I STAND AGAINST THIS COMPLETELY!

Why? Because how to make money is completely subjective! Hence why 99% of people who buy courses on how to make money, end up staying poor 😒!

So I created a platform to assist awesome people transition from "Hustle Culture" and "Making Money" …. To a much healthier approach of building an amazing business, with amazing people, all working together on an amazing mission together!….. THATS WHAT ACTUALLY MAKES YOU MONEY 💯!

How To Use The Platform
Search Bar
We'll be recommending specific journeys to take you to 8+, 9+, 10+ figures. But if you want to skips steps and go to the systems you're mostly interested in, use the search bar to find the ones you want.
Systems Player
Click the system you want to watch for the player to pop up. On the left side, you will see the list with the path you're about to take in your learning journey.

Systems can include: explainers, decks, checklists and examples. You can see the material type at the beginning of the title in-between brackets.

Each system starts with a video that will walk you through the decks and relevant examples, but we recommend going through all the materials for solid knowledge.

Use the "Previous" and "Next" buttons at the top of the screen to navigate through the materials.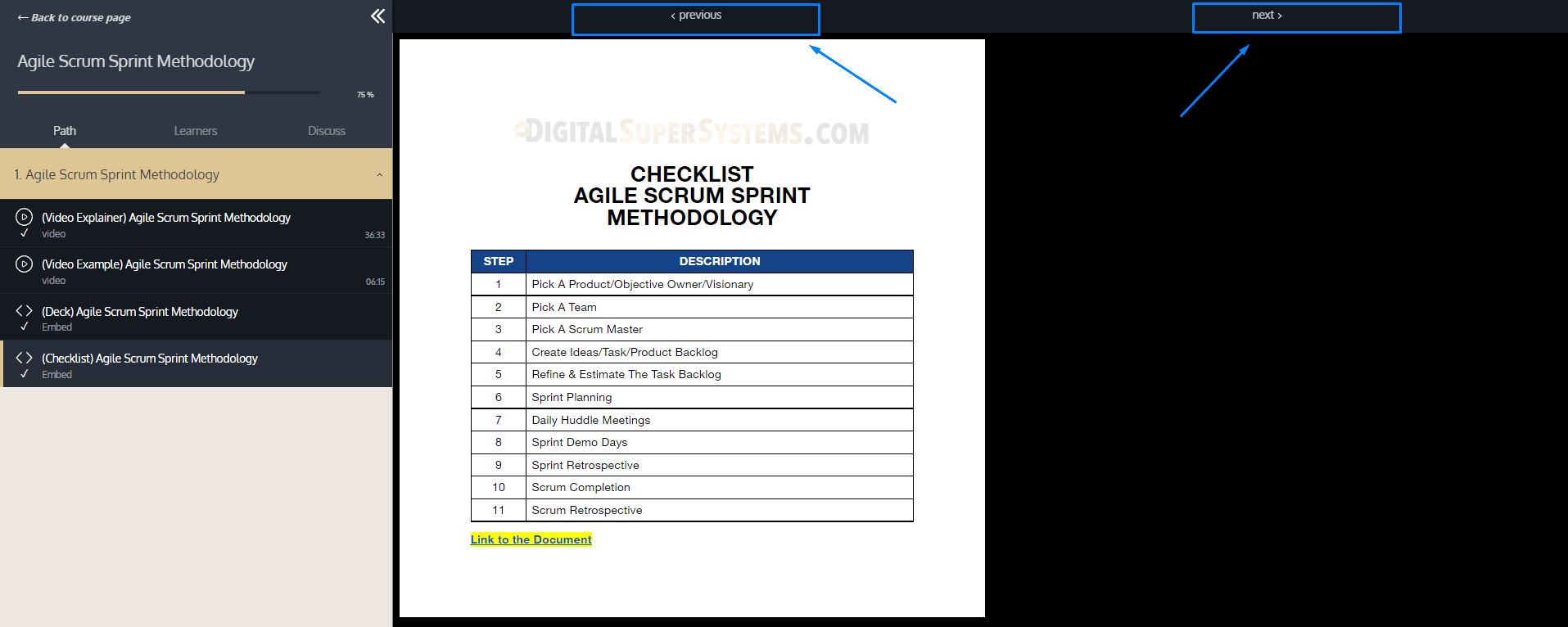 How to Use Templates
We're sharing the systems, processes and documents we used to scale our businesses. Besides learning how to execute to the highest level, you also get access to editable templates and additional resources.

Scroll to the bottom of the page and click

"Link to the Document"

(highlighted in yellow) to open the files and make copies you can fill in as you please, following our examples.
Love It? Share It!
If you love the systems, share them with someone. In your Dashboard, you will find sharing buttons so you can easily send them to your group of friends and gain their admiration.

All you have to do is click the buttons above the systems and you'll share the systems on Facebook, Twitter, LinkedIn and even via email.
Let's Find You A-Players
Now that you're ready to unlock unstoppable momentum for our business, you need the right people to build your own systems and execute on them.





Count on us to find you A-players

that help you SCALE THE BUSINESS with minimal micro management!
30% OFF!
Huge offer is waiting for you!
Click the button to make this offer yours! Limited-time only!
Created with